News archive detail - Kyocera focuses on the MEC-X endmill series and the MSR Heavy Roughing Cutter for almost all milling purposes
Kyocera focuses on the MEC-X endmill series and the MSR Heavy Roughing Cutter for almost all milling purposes
News: High performance milling
26 April 2007
Kyoto/Neuss – With the new MEC-X end- and facemilling series for grooving, helical interpolation and ramping Kyocera offers a wide range of highly productive cutting tools. Alongside the Kyocera MSR Heavy Roughing Cutter enables heavy machining with low cutting forces. The MSR obtains double the metal removal rate and double the productivity.
The Kyocera Corporation introduces some new products in order to complete the successful and multifunctional MEC-X series which has been well received by users since its first launch in 2004. The new MEC-X Fine Pitch Ultra Hurricane Endmill features a unique insert design that provides excellent wall finish and high-squareness during shouldering or slotting cuts.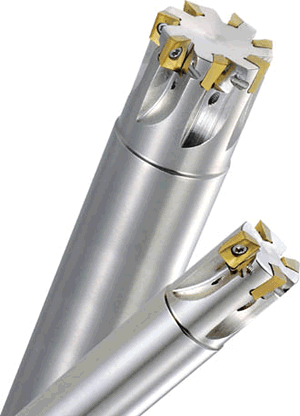 The products are engineered to give higher productivity and the fine pitch design provides:


Increased machining efficiency
Low cutting forces: 4140 steel
Lower horsepower machine compatibility
Low resistance and high toughness
Diameters ranging from 0.375" to 1.250"
Silver coating and a large chip pocket radius protect the tool. Available inserts include PR830 for steel, PR905 for cast iron and PR925 for stainless steel. The chipbreaker lineup consists of the JT for general purpose and the JS for low resistance by approximately 30%.
This series of tools with interchangeable cutters was developed through the use of Kyocera's high-precision die technology, which enables high levels of precision and balance comparable with a solid end mill, a cutter-build-in-holder type.
MSR Heavy Roughing Cutter
With its notched inserts MSR promotes larger depths of cut and excellent chip control. Besides it offers a clear advantage regarding cutting resistance: The tangential force as well as the combined force is below that of comparable cutting tools.