News archive detail - Kyocera starts series production of TL series with 5.7 inch TFT LCD
Kyocera starts series production of TL series with 5.7 inch TFT LCD
27 January 2008
Kyoto / Neuss – The Japanese technology corporation Kyocera has started the series production of its new "TL series": 5.7 inch TFT LC displays with QVGA (320 x 240) and VGA (640 x 480) resolution. Both thin, light and with narrow dead space. A touch panel is available for both versions. Due to identical dimensions the TL series Liquid Crystal Displays (LCD) are mechanically compatible, regardless of their resolution. Both use light-emitting diodes (LED) as backlighting. Production has been initiated in December 2007.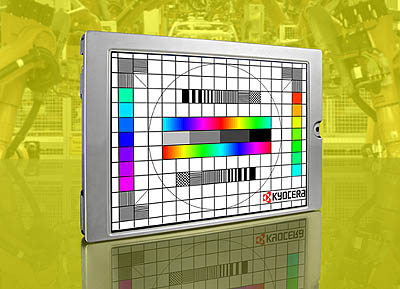 Designed in standard 2 DIN* size the new Kyocera TFT LCDs comply with the requirements of industrial application. TL series thus offers products suitable for hand-held applications in the industrial market such as i.e. manufacturing or measuring or medical equipment.
Kyocera, being evaluated for high quality and stable supply, intends to expand the TL series to meet the market needs.
As environmental sustainability is a crucial factor for Kyocera, activities by the Group include the active development of environmentally friendly products and the reduction of environmental effects. As a consequence, Kyocera offers a broad range of mercury-less LED backlights and lead-free PCBs according to the RoHS Directive. Compliant components are also used for TL series.
* DIN standard stands for Deutsches Institut für Normung. 1DIN is 144mm× 72mm and 2DIN is 44mm×144mm.
TL series 5.7 inch VGA LCD with LED backlight
| | | |
| --- | --- | --- |
| Item | Specification | Unit |
| Dimensions | 127.2 x 100.4 x 5.7 | mm |
| Weight | 120 | g |
| Brightness | 250 | cd/m2 |
TL series 5.7 inch QVGA LCD with LED backlight
| | | |
| --- | --- | --- |
| Item | Specification | Unit |
| Dimensions | 127.2 x 100.4 x 5.7 | mm |
| Weight | 110 | g |
| Brightness | 300 | cd/m2 |