News archive detail - KYOCERA DISPLAY EUROPE PRESENTS NEW RASPBERRY UNIVERSAL DEMO KIT
KYOCERA DISPLAY EUROPE PRESENTS NEW RASPBERRY UNIVERSAL DEMO KIT
11 December 2013
Kyoto / Neuss – Whether needed for a trade show or a demonstration on a customer's premises, Kyocera Display Europe's new Universal Demo Kit (VIP Kit) can be used to quickly and easily operate all current Kyocera TFT display modules. How it works: The converter included in the VIP Kit adapts HDMI graphics data from a Raspberry Pi so that they can be viewed on a Kyocera display panel. Users don't have to worry about resolution or data format. Texts, photos, images, videos — everything is displayed in real time and at a high resolution. So users can check straight away if the correct display has been selected for the intended application or whether the viewing angles are sufficient. This will be of major benefit to designers and developers in industrial automation, medical technology, and not least in the automotive industry, among others.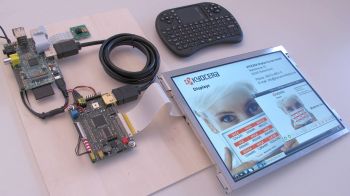 The new Kyocera VIP Kit consists of the desired size of display from the Kyocera product range, a universal HDMI-to-LVDS converter and the appropriate cables and power packs. The converter is designed to be connected directly to the Raspberry, but if required, can also be connected to any HDMI port so that content can be viewed on the corresponding Kyocera display.
Flexible and versatile

The Kyocera VIP Kit is available as a plug-and-play version, enabling you to quickly and easily upload your own images and view them with the application. Another advantage of the Kyocera VIP Kit is that it can be used anywhere for presentations without the need for an additional display. In addition, graphics can be easily altered and optimized on the display.
VIP Kit makes light work and saves time

"Our new VIP Kit offers users from a variety of different sectors numerous additional options for the rapid implementation of demonstration models. In addition, it makes work on client presentations or at trade fair stands faster and a whole lot easier," explained Manfred Sauer, Head of Sales & Marketing, Kyocera Display Europe GmbH.
 
The Kyocera VIP Kit has a single channel 24-bit HDMI-LVDS converter with a 15-MHz to 85-MHz pixel clock. Other features include VGA (640 x 480) to Full HD (1920 x 1080) resolution and users can select between Hsync, Vsync or Clock polarity. The power pack supplied provides the required voltage of 12 V/1.5 A; and the control unit for the backlight with up to a maximum of 600 mA integrated.

The Kyocera VIP Kit is available from December 2013 through regular sales channels.

For more information about Kyocera: www.kyocera.eu